Discover Big Creek's history hidden under the Pearl Road (Brooklyn-Brighton) Bridge. Meet property owners, other speakers to learn about the history of the valley, existing infrastructure, Big Creek restoration and Henninger Landfill remediation efforts, and trail plans to connect the Towpath Trail with the Zoo and the neighborhoods on either side of the valley. Leisure hike, about 3/4 mile round trip. Refreshments.
Meet for Tour:: In parking lot behind Steve's Doghouse restaurant, 3850 Pearl Rd, Cleveland 44109, north end of the bridge near Denison. [Map]
To RSVP or for more information, contact Bob Gardin at bgardin@bigcreekconnects.org or 216-269-6472.
Sponsored by Big Creek Connects and Old Brooklyn Community Development Corporation.
RiverDay 2018
Explore this piece of our history (and future!) with BCC. Be sure to check out other RiverDay events too! The annual RiverDay is a day of service and celebration in the Cuyahoga Watershed with many regional activities celebrating the Cuyahoga River and its system of wetlands, tributaries and, of course, Lake Erie, where the river ends. It's a day of fun, learning, and doing. Visit www.crookedriverday.org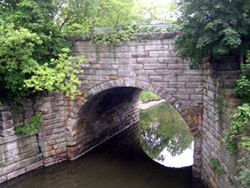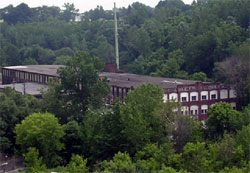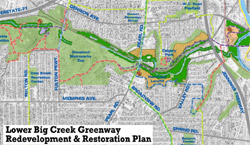 ---
-SAVE THE DATE-
Saturday, June 2, 2018
20th Annual Big Creek Watershed Clean Up
9 AM-Noon
Three locations:

• Brookfield Park,
Brookfield Ave. (Off W. 130th)

• Brooklyn City Fire Station
(8400 Memphis – Brooklyn)

• Snow Road Picnic Area
along Big Creek Parkway