Join us to celebrate the holiday season! We wish to thank you for being a part of BCC. Your continued support has meant another productive year for Big Creek Connects and our efforts to improve our watershed and connect its resources to the community.
Open House • Refreshments • Good Cheer
OPEN TO THE PUBLIC – EVERYONE IS WELCOME – BRING A FRIEND
Discover a local landmark!
Art House is a nonprofit arts center located in historic Brooklyn Centre. The organization was founded in 1999 by local artists and residents dedicated to the belief that the arts enrich lives and help create better communities. The 3,000 sq. ft. studio facility is housed in a 1948 domed Quonset building. The Art House mission is to make art accessible by providing instruction, encouragement, and facilities.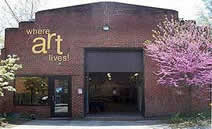 Happy holidays from your Big Creek Connects Board and staff!