Putting the "U" in Urban Watershed Stewardship Series - 2011 Mini-symposium
Simple and attractive alternatives for your "homescape" – your lawn and other landscaping. Become a steward of our precious resources and contribute to a healthier watershed – starting in your own yard!
Sincere thanks to our presenters, the Brooklyn Centre Naturalists and other partners, and our attendees for making this event a success.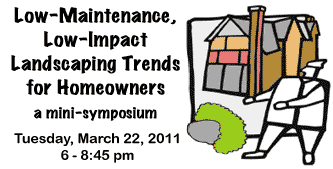 Event partners/sponsors:
Brooklyn Centre Naturalists

Friends of Big Creek
Northeast Ohio Watershed Council
Northeast Ohio Regional Sewer District
Presentations [pdf]
Ecological benefits of alternative landscapes.
Victoria Mills, Director, Doan Brook Watershed Partnership

Homeowners' personal experience installing alternative landscape.
Kyle Dreyfuss-Wells, Manager of Watershed Programs, Northeast Ohio Regional Sewer District
&
Kevin Dreyfuss-Wells, Director of Sustainable Design, City Architecture

Native Plants - the How and Why.
Garrett Ormiston, GIS & Stewardship Specialist, Natural Areas Division, Cleveland Museum of Natural History

The Permaculture Frontier: Landscapes Where People and Nature Work Together.
Jonathan Hull, Green Triangle