News & Events . . . . . . . . . . . .
RiverSweep
Saturday, May 8, 2021
9 a.m. – 11 a.m
To ensure COVID safety protocols, registration is required.
Big Creek/Lower Harvard: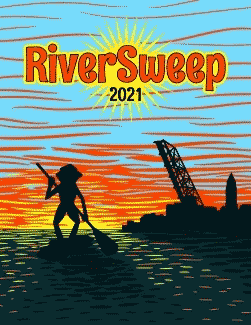 ---
Recently:
Cleveland Metroparks' Monday Meetup presentation
Fall Hike in the Brooklyn Oxbow
Big Creek Bus Tour & Stream Monitoring Program – Details
Summer 2019
Big Creek Watershed Cleanup
June 1 [details]
Big Creek Connects and Cuyahoga Soil & Water Conservation District with the support of community stakeholders hosted the 21st annual cleanup. Volunteers picked up stream-side trash at 3 sites:
• Brookfield Park, Brookfield Ave. (between Bellaire and W. 130th)
• Brooklyn City Fire Station (8400 Memphis – Brooklyn)
• Snow Road Picnic Area (Along Big Creek Parkway)
River Day 2019: Where Big Creek meets the Cuyahoga River
May 18, 2019
Tour of the confluence area of the creek and river with info about water pollution and control measures related to the infamous 1969 fire that happened nearby. Examination of construction of the Towpath Trail extension underway while learning about related public access efforts.
Guest speakers: Doug Cooper - former president & CEO, Cuyahoga Valley Scenic Railroad; Rob Stoerkel – Community Discharge Permit Program Specialist, Northeast Ohio Regional Sewer District; and Jim Ridge – Brand Manager, Canalway Partners.
RiverSweep
May 11, 2019
Canalway Partners done-in-a-day cleanup. Big Creek/
Lower Harvard: Meet at Sand Bar, 4002 Jennings Rd., 44109.
Big Creek Watershed Balanced Growth Partnership Meeting
April 17, 2019
Parma Heights
Holiday Party
Dec. 13, 2018
Monday MeetUp: What's Up with Big Creek
November 5, 2018
Big Creek Ramble: Ohio City Bicycle Co-op Social Ride Tour of Big Creek
August 26, 2018
Big Creek Watershed Clean-Up
June 2, 2018
20th annual clean-up!
Greater Cleveland Trails & Greenways Conference
May 31, 2018
Details at gctrails.org
RiverDay
May 19, 2018
RiverSweep
May 12, 2018
---
In 2017 the GM Foundation and Parma's Metal Center awarded $10,000 in grants to BCC through its Community Grants program.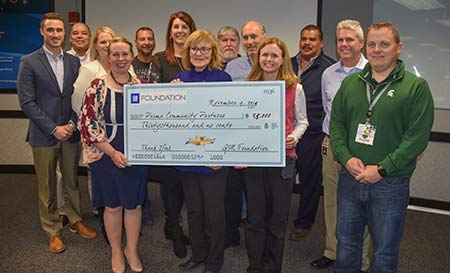 GM Foundation & GM Parma Support Community Needs
---
Big Creek Non-Point Source Implementation Strategic (NPS-IS) Plan approved by the Ohio EPA and this week by the US EPA. See the plan.
---
In the news - media coverage:
"Brooklyn Intermediate School students study Stickney Creek water quality," John Benson, Cleveland.com, Oct. 1, 2018.
"Big Creek Watershed Clean Up scheduled for June 2 in Parma and Parma Heights," John Benson, Cleveland.com, May 25, 2018.
"Big Creek Connects' efforts with the environment receive additional funding and recognition," Lynette Filips, Old Brooklyn News, Spring 2018.
"Brooklyn Intermediate School students take scientific field trip to Stickney Creek," John Benson, Cleveland.com, Oct. 2, 2017.
"Parma, Brooklyn stormwater issues examined by Chinese officials." Mark Holan, Cleveland.com, July 31, 2017.
"Parma, Brooklyn volunteers help clean up Big Creek watershed," Mark Holan, Cleveland.com, June 4, 2017.
"Parma Boy Scouts and hockey team members help clean up Big Creek watershed," Mark Holan, Cleveland.com, June 6, 2016.
"Brooklyn's Big Creek watershed gets a 'clean sweep' by volunteers," Mark Holan, Cleveland.com, June 5, 2016.
"Big Creek bike-pedestrian greenway eyed for vicinity of abandoned 'Parma Freeway'," Alison Grant, The Plain Dealer: May 8, 2015, p. A1.
"Brooklyn seventh graders learn about stream assessment in Big Creek," Mark Holan, Cleveland.com, Sept. 28, 2014.
"Trail and greenway planners envision a greener, healthier, more connected future for Cuyahoga County," Steven Litt, cleveland.com: June 13, 2014.
"The Friends of Big Creek take a hike and explore the Oxbow area, " By Mark Holan, Special to the Sun News, March 17, 2014.
"Big and small projects try to channel the results of increasing floods," by Karen Schaefer, WKSU Public Radio, August 13, 2013.
"I Did It: Created a watershed group for Big Creek; Small acts for Big Creek," GreenCityBlueLake, February, 2013.
"Friends of Big Creek bring native plants to Parma High," Jack Marschall (Jack's Corner), January 10, 2013, Parma Sun Post.
"Preserving the past, preserving the future: Historical home being restored, sold to preserve Big Creek land," July 17, 2011, by Jaime Anton, The Post.
"Preservation group rehabbing historical North Royalton home on Ridge Road," July 7, 2011, by Sara Macho, Sun News.
"Brooklyn Big Creek Watershed Clean Up turns into fun for volunteers and boy scouts," June 11, 2011, by Mark Holan, Sun News.
"Hikers explore Parma conservation area: West Creek Committee, city share ownership after purchase from Busch family."
Parma Sun Post 05/05/2011 by Mark Holan
"Brook Park considers plan to improve Big Creek watershed"
Sun News 12/02/2010 by Ken Baka
"Parma should preserve land, add storm water detention at Parmatown, study says"
Sun News 11/19/2010 by Bob Sandrick (This article appeared in the 11/18/2010 print issue as "Watershed study challenges Big Creek planners."
"Parma Heights passes resolution for balanced growth initiative"
Sun News 11/16/2010 by Mark Holan
"Group is promoting a cleaner watershed."
Feature article about FOBC by Ken Baka in the Parma Sun Post 9/24/2009.
Northeast Ohio Regional Sewer District (NEORSD) Watershed Grant
NEORSD recognizes that watershed organizations play an important role in helping local governments and residents address flooding, erosion, and water quality concerns through innovative stormwater management practices, and stream and wetland restoration, and that this work compliments the NEORSD's commitment to clean water and supports the goals of the Stormwater Management Program. NEORSD further recognizes the funding challenges faced by watershed organizations. To address this issue and in an effort to build and grow organizations' capabilities, NEORSD instituted a competitive Watershed Grant Program to provide support for staffing and operating costs of qualified watershed organizations.
FOBC is proud to announce qualification and receipt of a Watershed Grant for the fourth year under this program. We are pleased to be a project partner in this program and look forward to contributing to NEORSD's goals for sustainable stormwater management and infrastructure solutions.
---
Acceptance of the The Big Creek Greenway Trail Alignment and Neighborhood Connector Plan by the Brooklyn City Council.
April 13, 2009
Brooklyn Sun article [pdf]
Master Plan Report February 2009 - prepared by the Floyd Browne Group [17.4MB pdf ]
Appendix A - Development Guidelines [pdf]
Appendix B - Master Plan Maps [15.8MB pdf]
Appendix C - Parcel Ownership Maps [pdf]
Appendix D - Cost Estimates [pdf]
Appendix E - Frequently Asked Trail Questions [pdf]
---
Adoption of the Lower Big Creek Valley Greenway Redevelopment & Restoration Plan by the Cleveland City Planning Commission
February 6, 2009
Thanks to all the contributing partners and all who have stood in support of this plan that is so important to Cleveland, the Brooklyn Centre and Old Brooklyn neighborhoods, and to the Big Creek watershed. The plan will be added to the update of the city master plan (Connecting Cleveland 2020 Citywide Plan). It is a major step toward the next phases: funding, engineering, construction and more.
Lower Big Creek Valley Greenway Redevelopment & Restoration Plan
prepared by Floyd Browne Group in association with schmidtcopelandparkerstevens, June 2008. Project partners: Cleveland Metroparks, City of Cleveland, Ohio Canal Corridor, Old Brooklyn Community Development Corporation.
The plan presents "a new vision for the Valley Greenway. The creation of this vision incorporates detailed future land use, public access, infrastructure, ecological restoration and environmental regeneration, open space and trail linkages and economic development concepts."
Section One: 1. Introduction; 2. Valley Resources; 3. Public Involvement; 4. Trail Route Alternatives; 5. Trail & Greenway Concept (Upland & Valley Trail Descriptions (19MB)
Section Two: 7. Environmental Regeneration Efforts; 8. Suggested Land Use Changes (Camping Site, Adventure Sports Site, Harshaw Chemical Site, Ecological Restoration - Henninger Landfill, Martin Enterprises Aggregates, Brookside Auto Recycling Yard); 8. Priorities & Next Steps; 9. Funding Strategies (34MB)
Appendix B - Master Plan Maps (27MB)
---
Study grants:
August 10, 2007 - Trail Alignment Study - TLCI Grant awarded
FOBC and project partners were awarded funding for a feasibility study to connect the Cleveland Metroparks Brookside and Big Creek Reservations with a trail alignment through the City of Brooklyn. FOBC, Cleveland Metroparks, and the cities of Cleveland and Parma join the City of Brooklyn as co-sponsors for the $75,000 study ($60,000 grant with a $15,000 local match) funded by the federal Transportation for Livable Communities Initiative (TLCI) grant program.
The Big Creek Greenway Trail Alignment and Neighborhood Connector Plan will examine potential linkages with surrounding neighborhoods as well as Brooklyn municipal/office/retail areas. The all purpose trail network will provide a safe alternative mode of transportation for its users and identify opportunities for interpretive exhibits and ecological restoration.
- Brooklyn Sun Journal Aug. 23, 2007 [pdf]
- FOBC News release [pdf]
May 7, 2007 - Watershed Management Plan - CMAG Grant awarded
Big Creek watershed communities of Brooklyn, Parma, Parma Heights, Brook Park, and the southwest wards of Cleveland partner with FOBC and the Cuyahoga River Remedial Action Plan (RAP) to develop a comprehensive community plan for the Big Creek Watershed. The RAP was awarded a $20,000 (with 50% local match) Ohio Coastal Management Assistance Grant to develop the first phase of a Watershed Management Plan—data collection and analysis of information for Watershed Inventory, Assessment and Problem Definition.
- Coastal Management Assistance Grants award news release: www.ohiodnr.com/news/may07/0522coastalgrants.htm
- FOBC news release [pdf]
---
Old Brooklyn News June 2008 [pdf 8.6MB]
Archive coverage in the Sun News:
Brooklyn Sun Journal Dec. 8, 2005 "Towpath, park links eyed"
Brooklyn Sun Journal Dec. 29, 2005 "City will not use eminent domain to create bike trail"
Brooklyn Sun Journal Apr. 27, 2006 "Group helps protect Big Creek"
Brooklyn Sun Journal Jul. 20, 2006 "'Friends' explore city's 'Kingdom' for trail links"
Conceptual plans for proposed trail alignments
---