Fern Hill Stormwater Treatment Wetland Project
The Fern Hill Stormwater Treatment Wetland project is located in Cleveland Metroparks Fern Hill Picnic Area in the Big Creek Reservation, just south of Brookpark Road in the City of Parma. The project is designed to intercept a 36" stormwater outlet to Big Creek that drains over 50 acres of residential neighborhood west of Hauserman Road. The stormwater will be diverted into a created wetland that will capture, slow and infiltrate its flow and provide water quality treatment.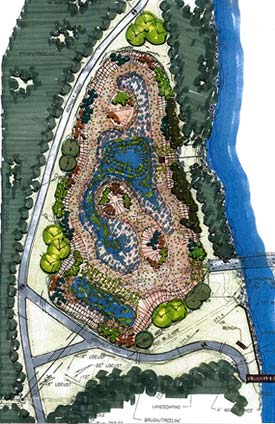 The $150,000 project, funded through Ohio EPA's Surface Waters Improvement Fund (SWIF), will contain a trail between a pre-treatment cell and the wetland and, in addition to creating wildlife habitat, act as a demonstration project with interpretive signage.

The project was identified in the Big Creek Watershed Stormwater Retrofit Ranking Project managed by Big Creek Connects/Friends of Big Creek with Tetra Tech, Inc. (www.tetratech.com)as the project consultant. The project assessed and prioritized over 150 potential stormwater retrofit sites identified in the Big Creek Balanced Growth Plan. Its tasks included conceptual design work and cost estimates for the three highest ranking sites, including the Fern Hill project.
This project is a collaboration of the City of Parma, Cleveland Metroparks, and Big Creek Connects, formerly Friends of Big Creek (BCC). The City of Parma is administering the grant while Cleveland Metroparks managed the project's engineering and construction. BCC is providing support to Cleveland Metroparks in education and outreach and supported this project with a $4,000 cash match, the majority of a donation received from General Motors. Construction began in the spring of 2015.
Key project elements include:
Final design includes a stormwater treatment wetland, an innovative site BMP (Best Management Practice) that is not commonly implemented
Water quality treatment for a currently untreated 50-acre watershed which works towards the goals of the lower Cuyahoga River Watershed TMDL (Total Maximum Daily Load - a quantitative assessment of water quality problems)
Highly desirable wetland habitat within the riparian corridor (land adjacent to the creek)
Demonstration in a heavily used park – an excellent education opportunity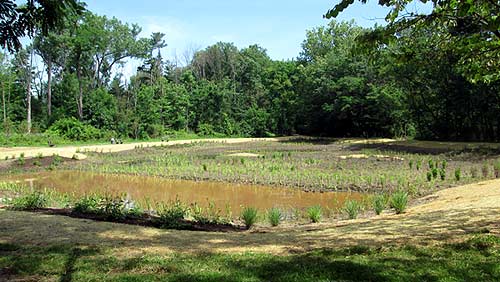 June 2015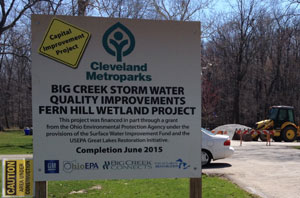 Construction began Spring 2015!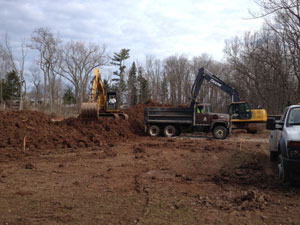 Constructing a wetland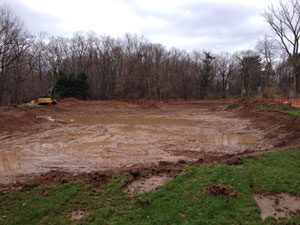 Future stormwater wetland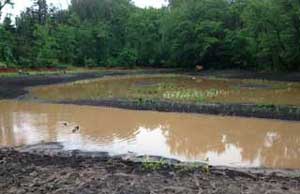 A lot of rain to test the plan!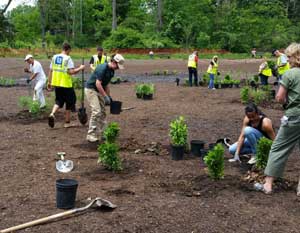 Volunteers help with planting. Thanks to GM Green Team and Cleveland Metroparks Watershed Stewards.
Ohio EPA Surface Water Improvement Fund (SWIF) Grants Program